Antoinette Hall
General Manager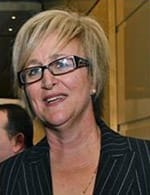 Antoinette Hall has been with Eureka Tower since early 2014. She has over 32 years professional, corporate and business experience, with over 18 year of those years spent in the Facilities Management/Owners Corporation industries in Australia and overseas.
Antoinette worked on Eureka Tower in its infancy over 12 years ago and has held a variety of senior positions during her career. Her aim is to ensure Eureka Tower maintains its iconic status on a national and international stage by ensuring ethical and efficient business practice, honest contract management and negotiation, staff direction and a strategic path in Eureka Tower's future.  Contact Antoinette: a.hall@eurekatower.com.au

Krystal has been the Operations Manager at Eureka Tower for 4 years and has held various other positions at Eureka Tower for just over 10 years. Krystal manages the day to day running of Eureka including all plant and equipment, general maintenance of all common areas and essential services compliance, to ensure the risk to life and property in the event of an emergency is minimized.
As well as understanding the common plant in the building, Krystal can provide advice and recommendations to residents who may be experiencing issues inside their apartments or who may want to complete some minor renovation work. If you require any building related information, please call Krystal on 9685 0188 or via email: operations@eurekatower.com.au.
Gareth Coleman
Services Manager
Gareth has been the Chief Concierge at Eureka Tower since December 2011 and was recently promoted to Eureka Tower Services Manager. In his new role, Gareth is responsible for the management of all Eureka Tower front of house processes, management and training of the Concierge team and all Security within the building.  Gareth's extensive expertise in customer service and attention to detail ensures the highest levels of customer service for Concierge and Security services for all Eureka Tower stakeholders.
To contact Gareth please call 9685 0188 or via email: g.coleman@eurekatower.com.au
Ahmed Abou-Eid
Concierge
Ahmed commenced his career at Eureka Tower in the role of security guard as well as covering many shifts on the Concierge desk.   In December 2014 Ahmed started working as a full time Concierge.  Ahmed always has a smile on his face and is eager to please.  He has enjoys getting to know all the residents and being able to assist them as best he can.  Ahmed can be contacted on 9685 0188 or via email: concierge@eurekatower.com.au
Concierge
[/panel-content]

Concierge

Night Concierge[/panel-header]
Kumar
Senior Security
Kumar is another long standing Eureka Tower Senior Night Security Supervisors and has been with Eureka Tower since coming over from Crown Casino in 2005. Kumar will most surely greet you with a friendly smile when on duty, but also takes on the more serious roles as Chief Warden during an emergency, and providing security and safety to all in the building. Kumar can be contacted when on shift on: 9685 0188.
The role of our Senior Night Security Supervisors is to act in the best interests of the building, assist residents and those within the emergency services should any incident arise. They are both a great asset to Eureka Tower.